One of my favourite things to do while watching anime is look out for scenic spots featured that are often real life places. Season 2 episode 17 of Fruits Basket was a really eventful episode with the gang traveling to Kyoto for their school trip, and it reminded me of my own time travelling around Kyoto. With the global pandemic still kicking, what better way to explore Kyoto's most iconic attractions than through Fruits Basket!
Arashiyama Bamboo Forest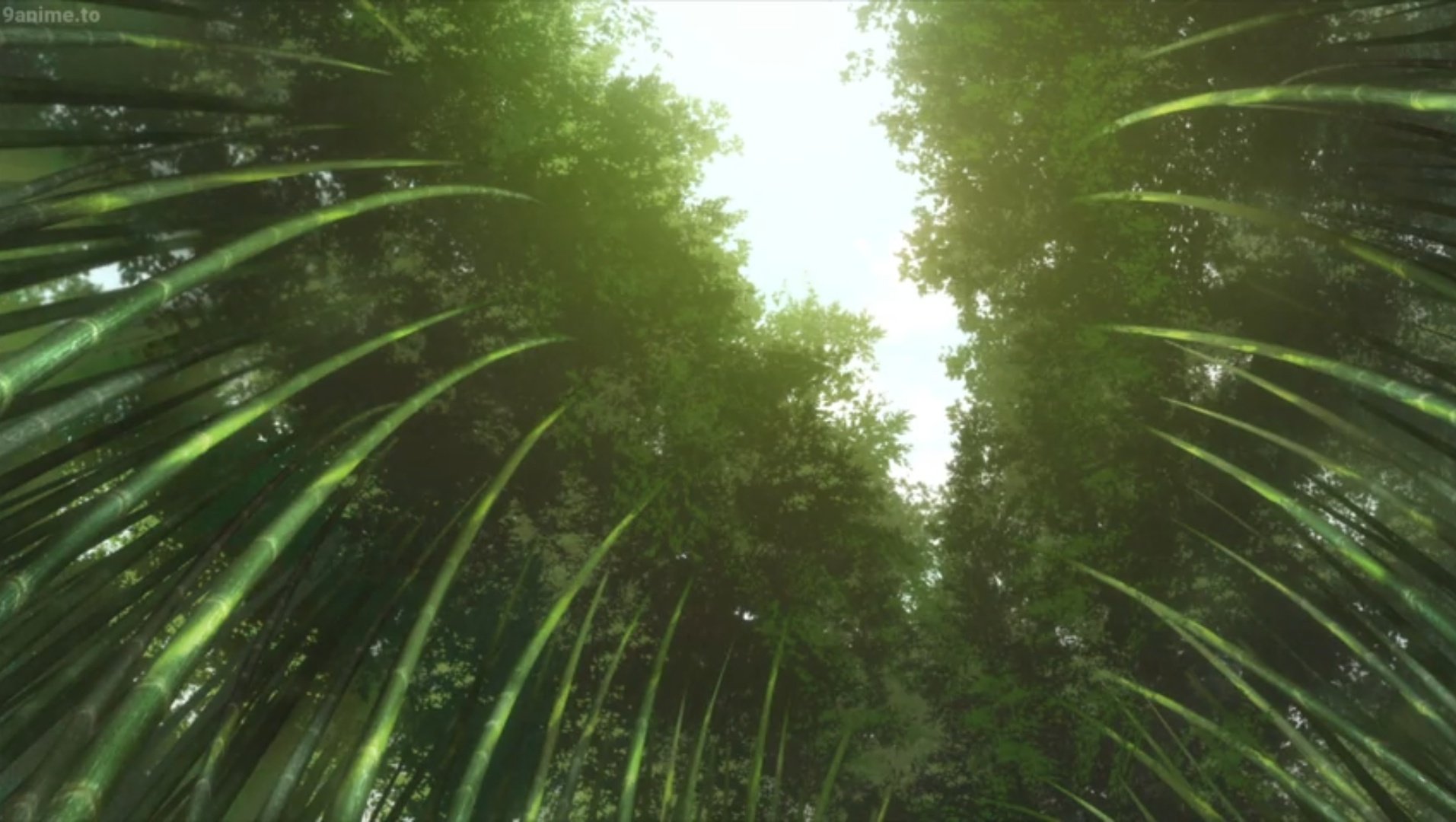 The first place on this list is, of course, the iconic Bamboo forest in Arashiyama which is the main setting of this episode. The bamboo trail is known for being a particularly tranquil experience in the mornings, with the lush green bamboo towering over and enveloping the trail.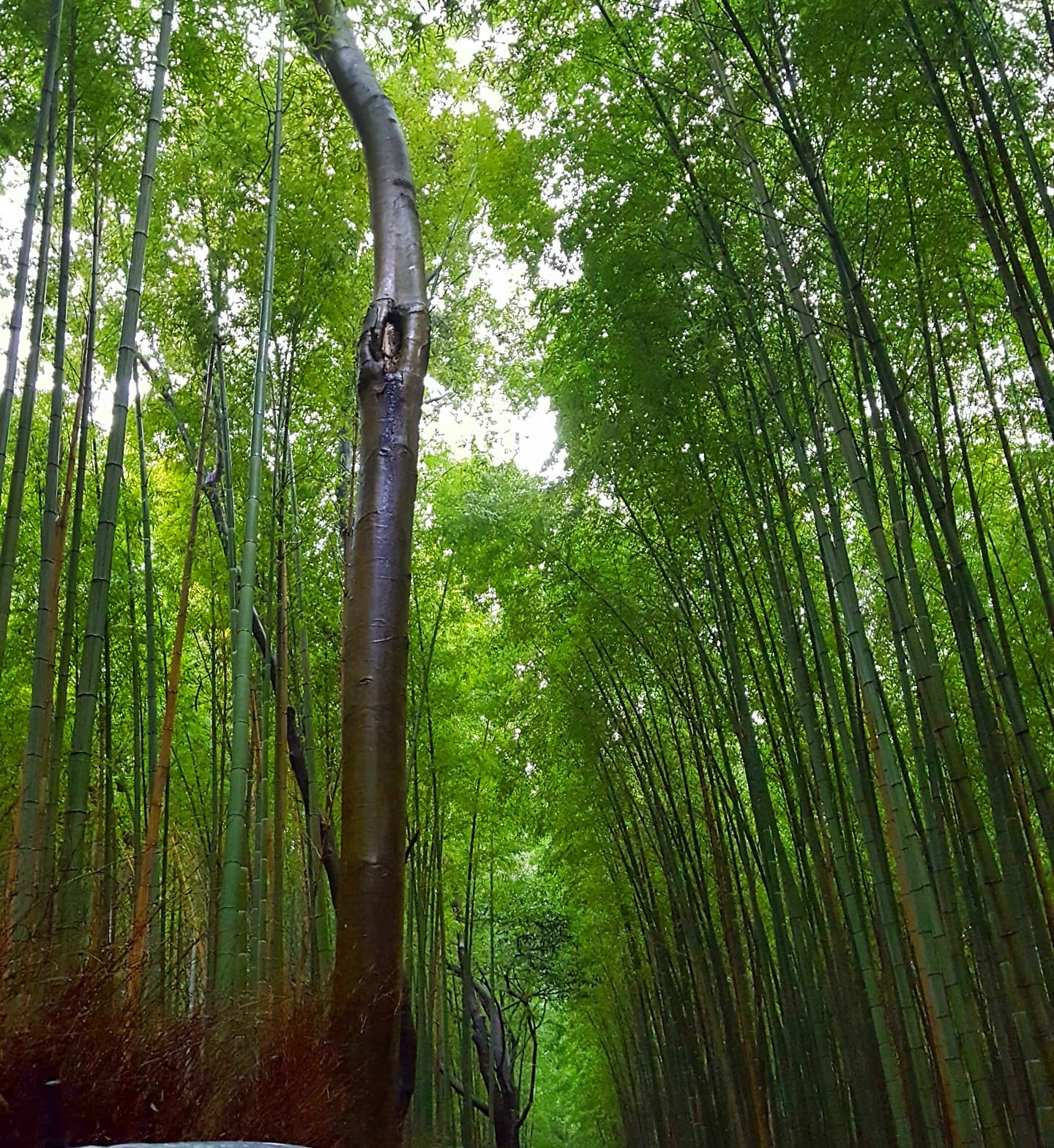 Arashiyama's Bamboo Forest is both a nationally designated historic sight and place of scenic beauty, and is deservingly one of the most popular tourist attractions in Kyoto, all year round. In my opinion, it remains as one of Kyoto's best attractions despite the crowds it can attract.
Nonomiya Shrine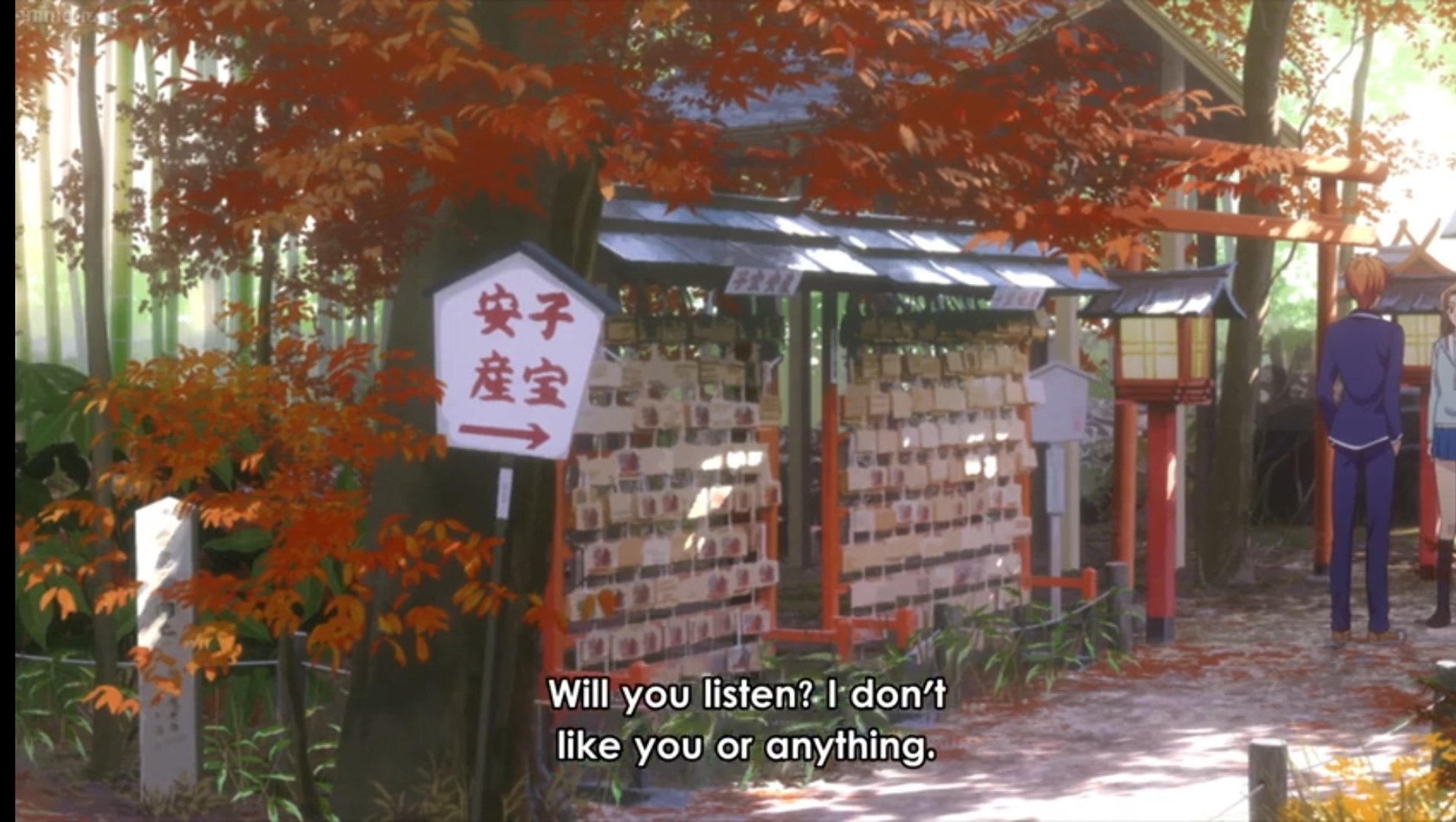 Nonommiya is the lovely little shrine located about halfway through the Bamboo forest, where Kyo gets confessed to by one of his class girls. While Kyo isn't interested, Nonomiya is said to enshrine the gods that bless couples with happy relationships, easy labour and children.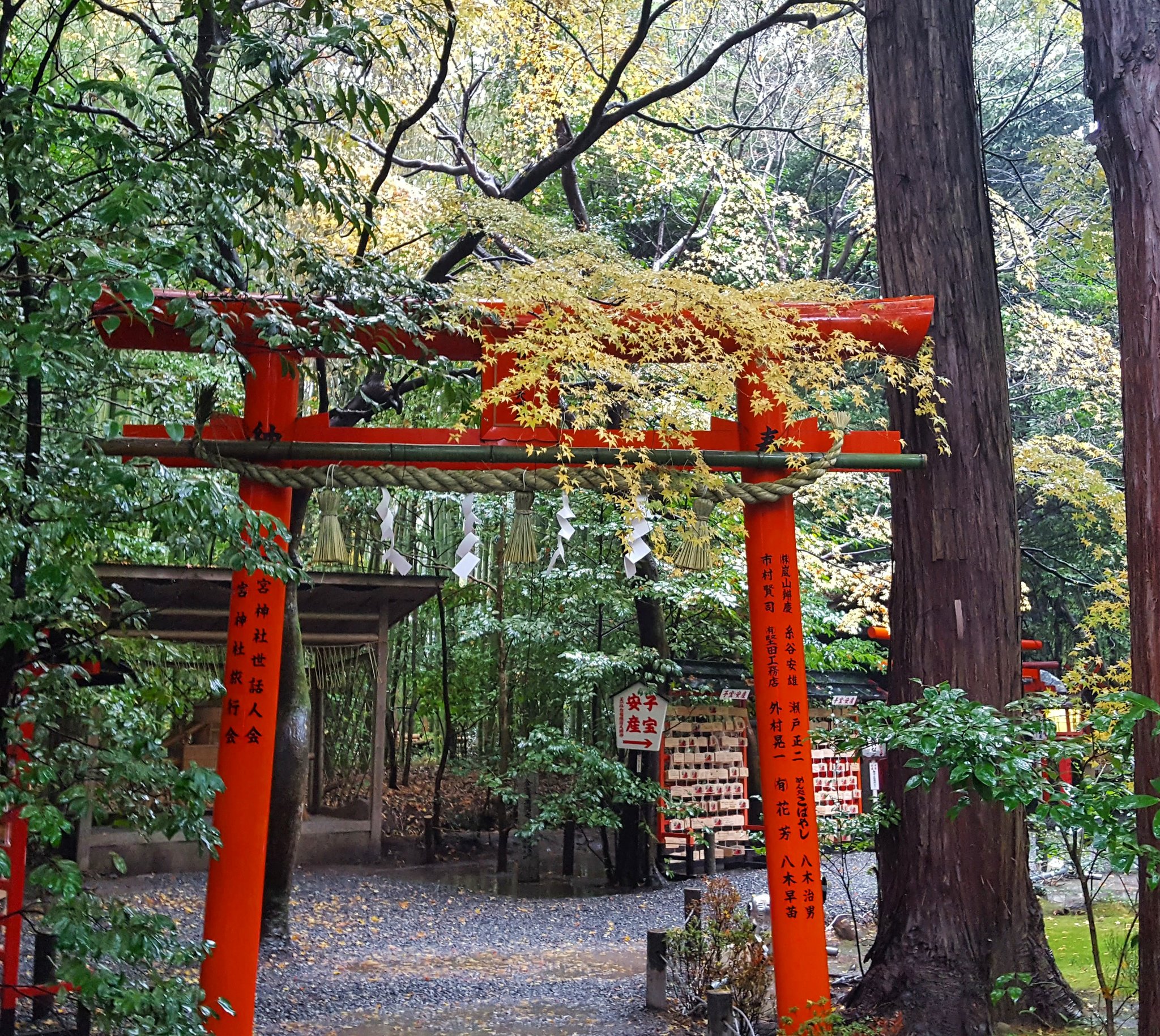 The beautiful shrine is extremely culturally significant, having appeared in the Japanese classic 11th century novel The Tale of Genji which continues to influence Japanese literature and art today. But even beyond that, this quaint little shrine is just simply gorgeous and should not be missed on trips to Arashiyama.
Togetsu-Kyo Bridge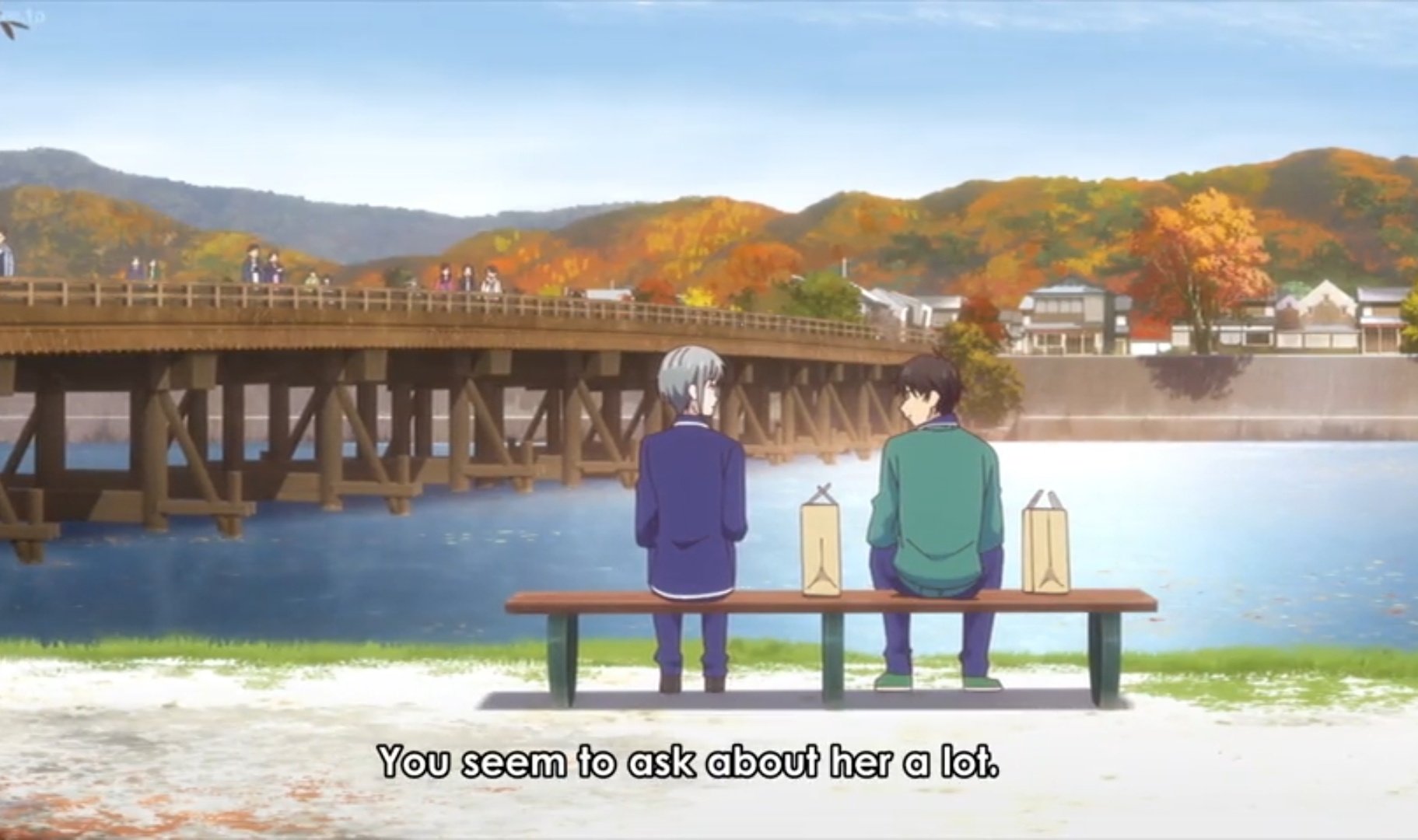 Togetsu-Kyo is a central landmark of Arashiyama and is the place were Yuki and Kakeru make a pit stop for a small man-to-man talk. It overlooks the greater mountainous areas that surround Arashiyama and is built upon the Katsura river.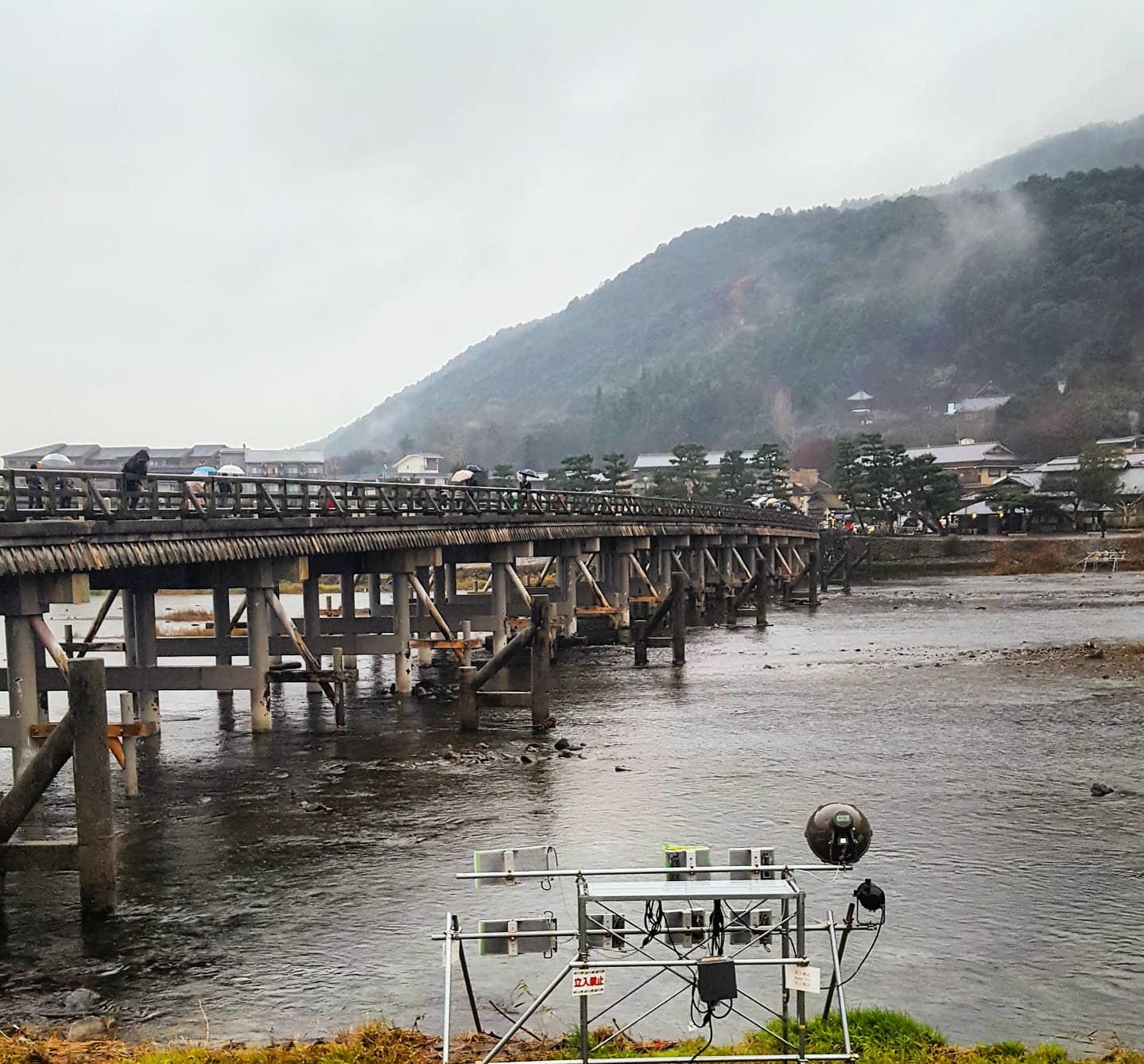 It was given the pretty name "Moon-Crossing bridge" after Emperor Kameyama witnessed the moon resting on it, appearing to be crossing over it. The bridge connects the bamboo grove area to the monkey park area, which is about a fifteen minute walk uphill after crossing the bridge.
Imamiya Shrine
Imamiya shrine is the location where the cute Kyoru moment happens. This is the only place in this list that I didn't actually go to myself, so I won't elaborate too much on it, but this shrine is typically where people go to pray for good health. It is also famous for selling delicious aburi mochi, or roasted rice cakes which their classmates are seen eating.
Kinkaku-ji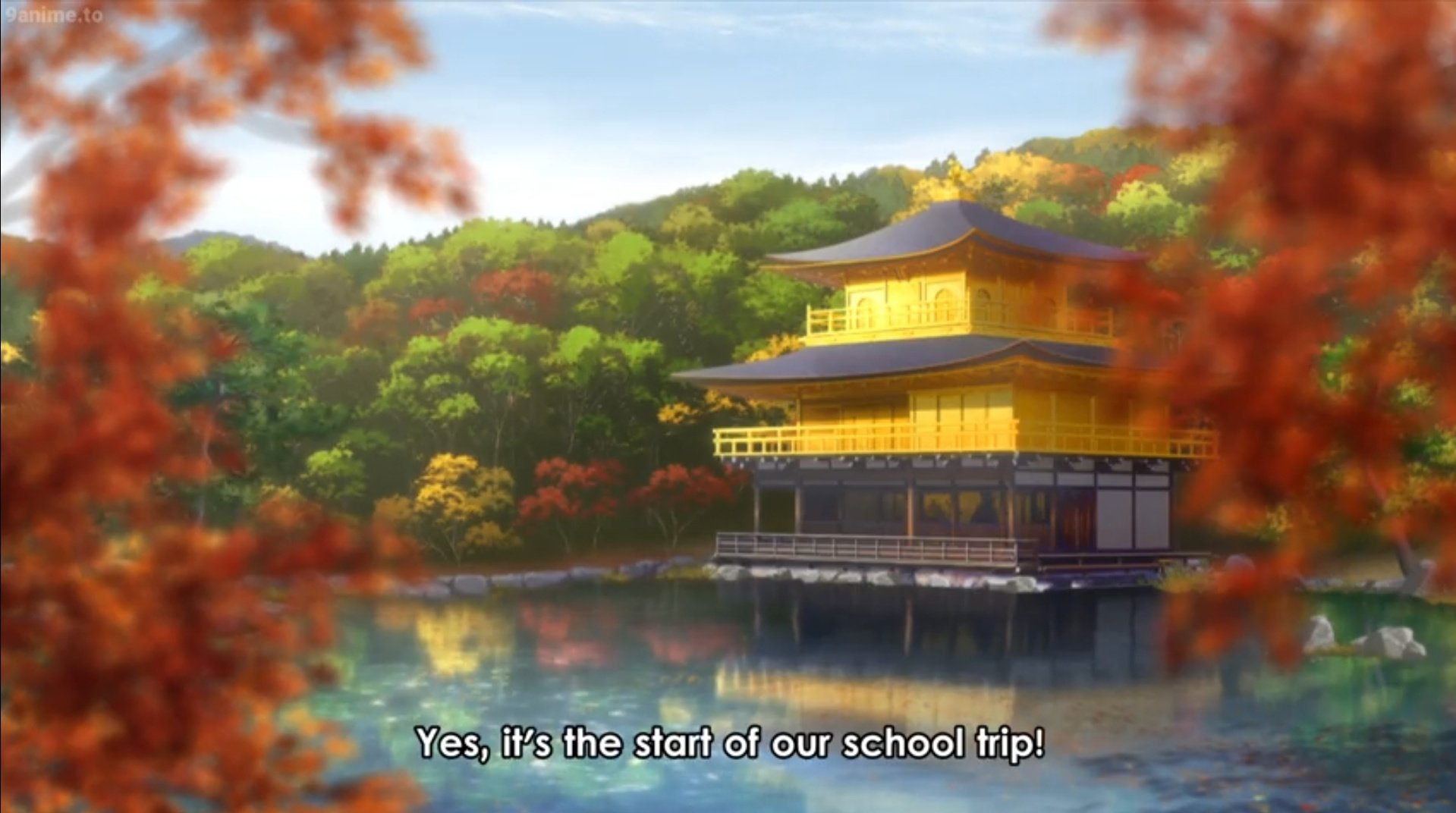 At the beginning of the episode there are a few shots that flash 3 of Kyoto's most famous attractions. These places are absolutely ubiquitous with Kyoto; which is exactly why they are used in establishing shots. The first of the 3 is Kinkaku-ji, the golden pavilion.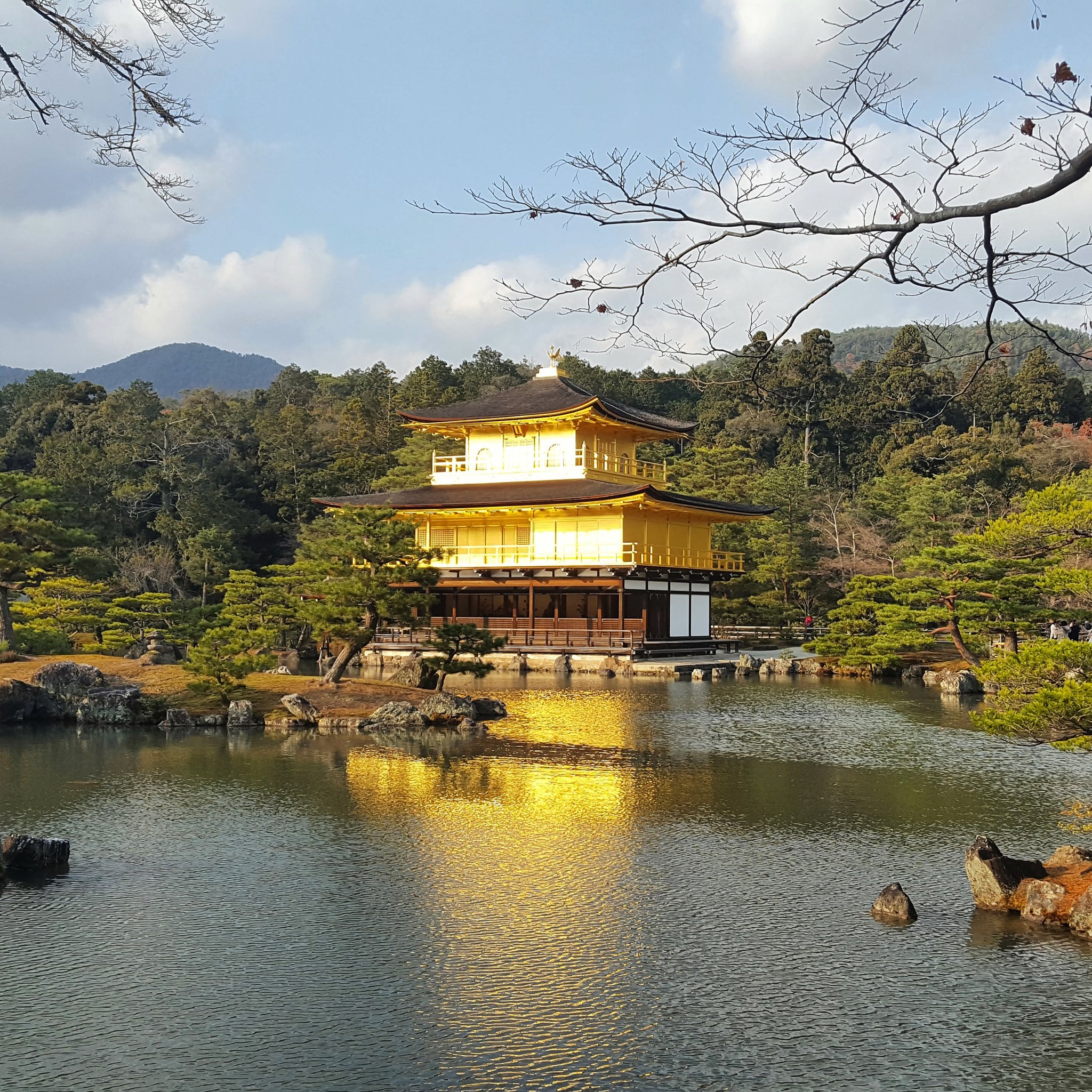 Probably the most famous temple in Kyoto, the UNESCO world heritage site Kinkaku-ji sits majestically across a pond, surrounded by carefully manicured gardens. With its top two floors covered entirely in gold leaf, Kinkaku-ji truly lives up to its reputation as a sight to behold.
Kiyomizu-Dera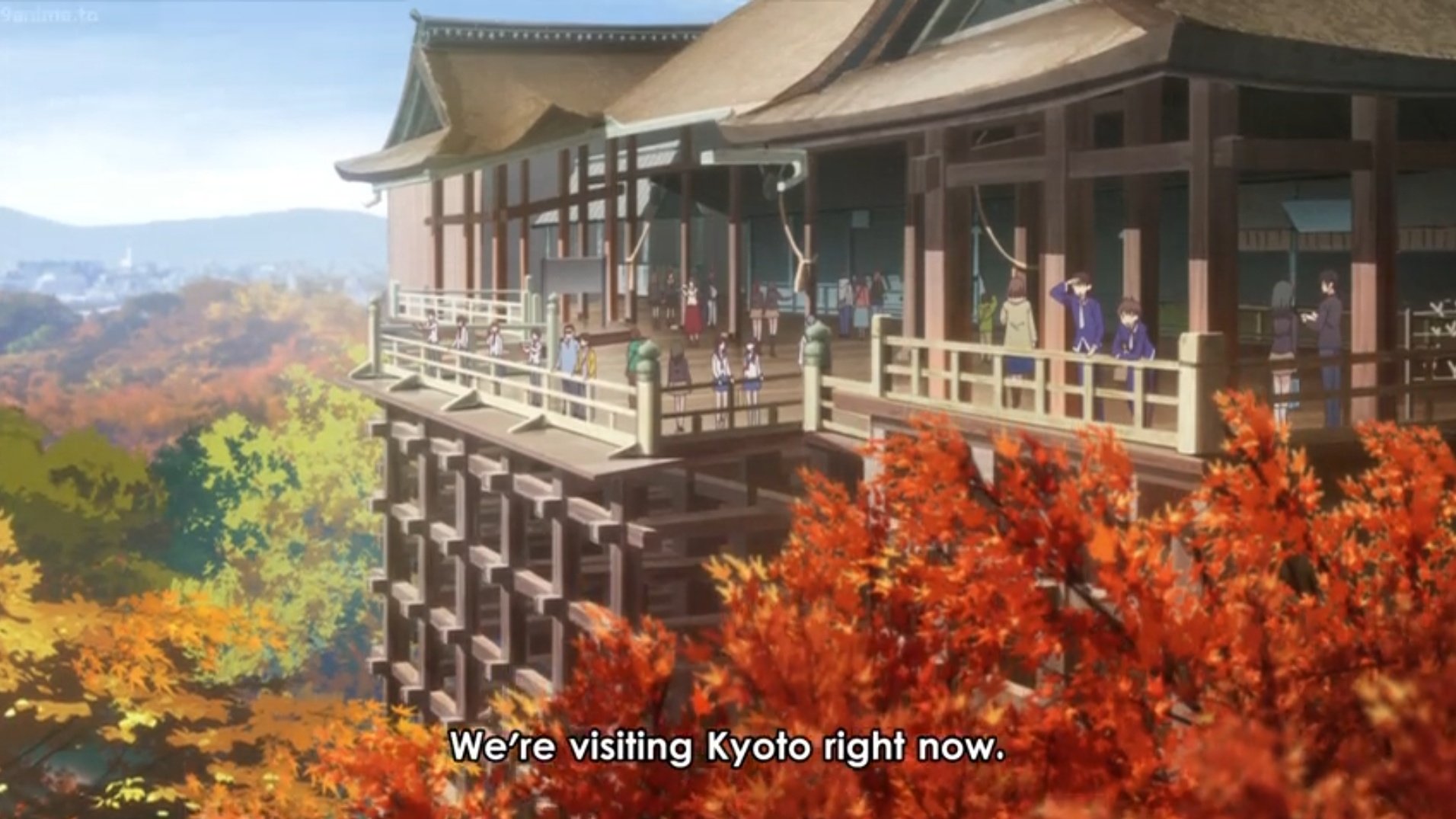 The second location is the oh-so famous Kiyomizu-Dera, a very important temple in Kyoto's history. Like Kinkaku-ji, Kiyomizu-Dera is also a UNESCO world heritage site and is most famous for its beautiful view of the city. The structure of the temple was also incredibly built without a single nail!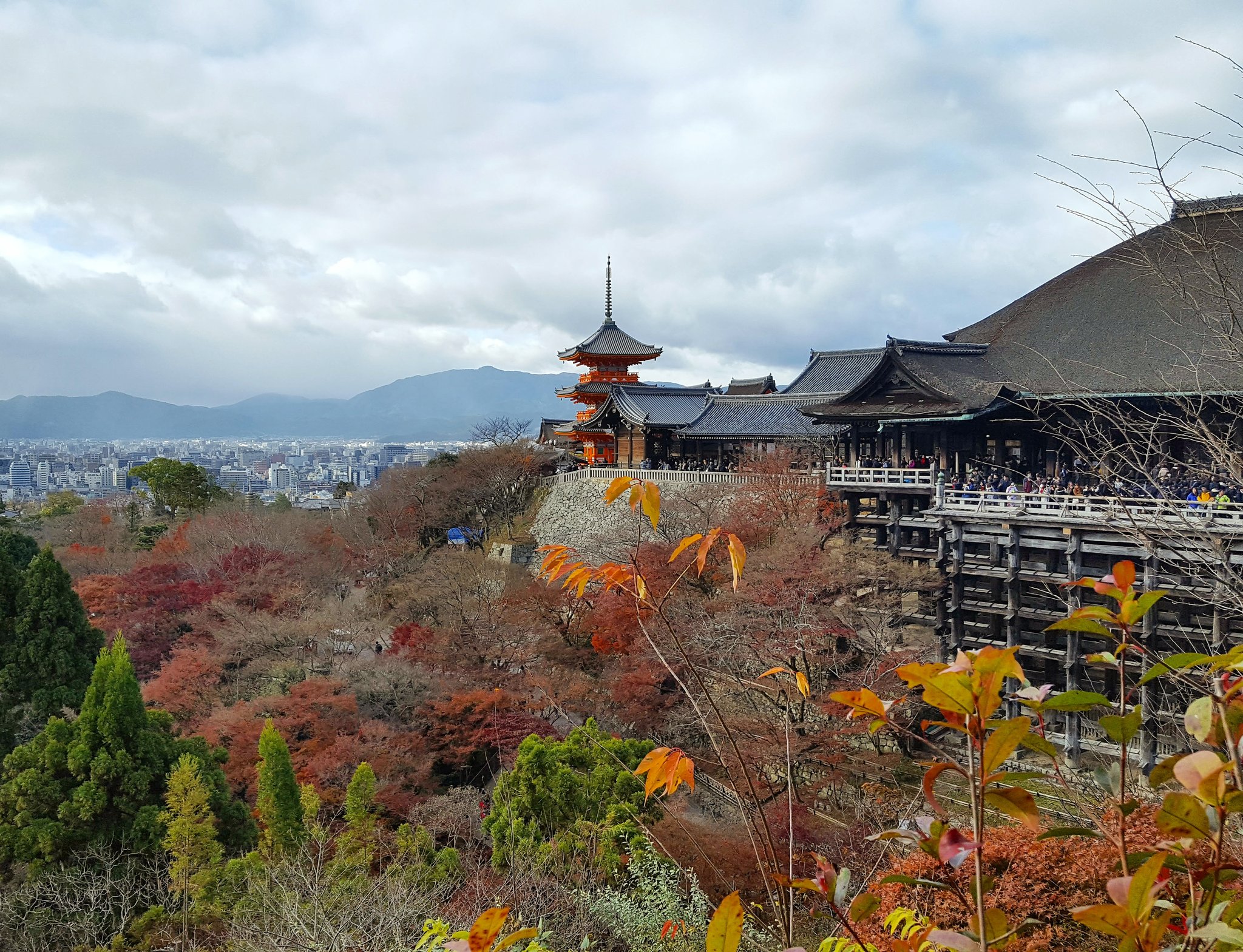 Kiyomizu-dera first rose to world prominence when it became one of the 20 finalists for the new seven wonders of the world. Although it was ultimately not chosen, the temple's picturesque scenery and cultural significance makes it a must-see for all who visit Kyoto.
Fushimi Inari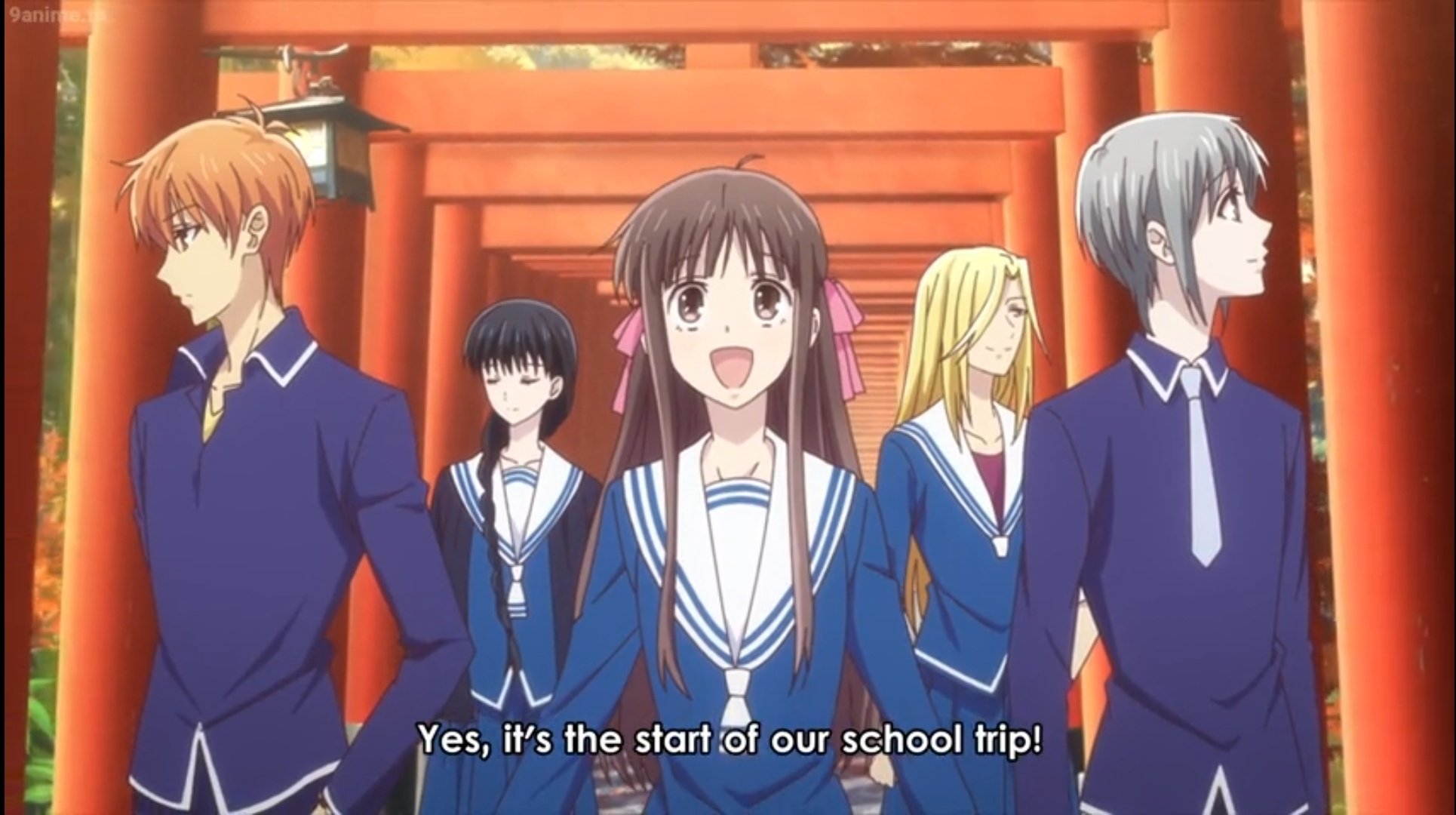 The last of Kyoto's top locations is Fushimi Inari Shrine, my personal favourite of the bunch. This shrine dedicated to the Shinto God of rice and as you can imagine, is very important in Japanese tradition. This shrine is best known for the hundreds of Torii gates that carve a path up the mountain where the shrine is located.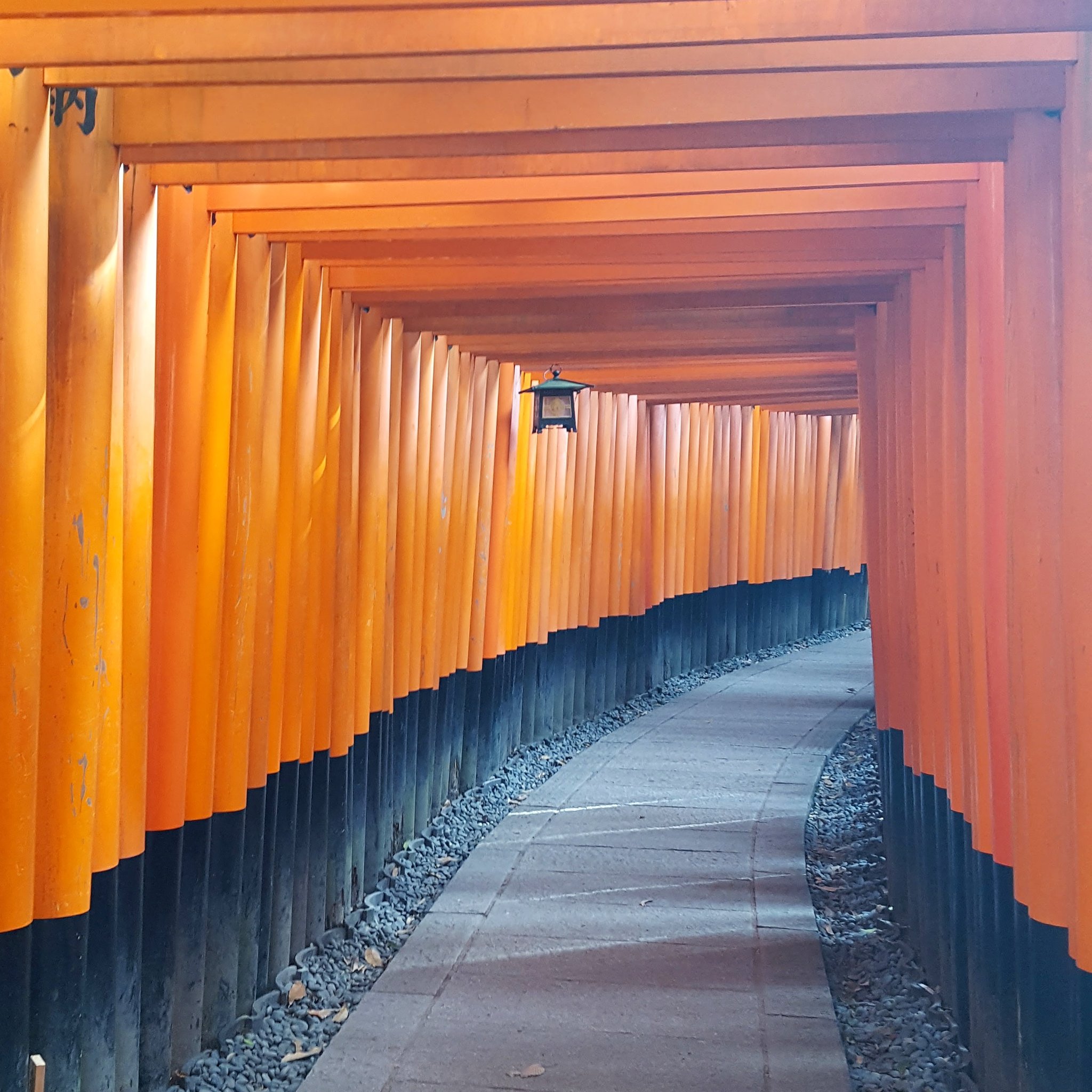 For this shrine, the most important thing is to move past the main shrine area quickly and start the hiking trail, which boasts some of Kyoto's most scenic spots, especially in autumn. The hike to the summit and back takes about 2-3 hours. This includes a fantastic view at the top!
Nara Park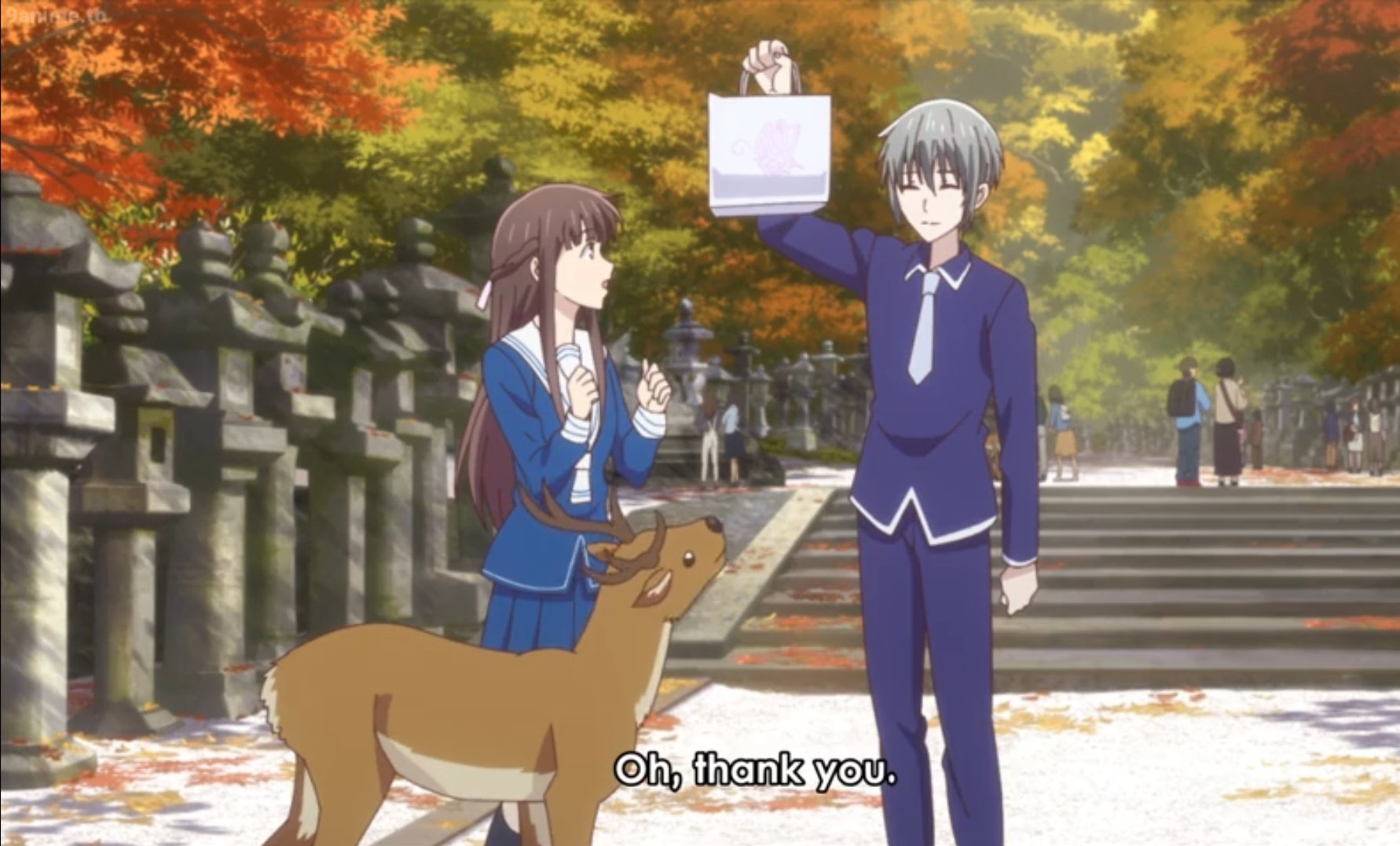 Nara Park is not actually in Kyoto (It's instead in the titular Nara), but is a pretty quick train ride away which makes it a popular and excellent day trip from Kyoto. Yuki is seen holding up his souvenirs away from the free-roaming deer that populate Nara Park and are widely known to ask for treats by bowing their heads.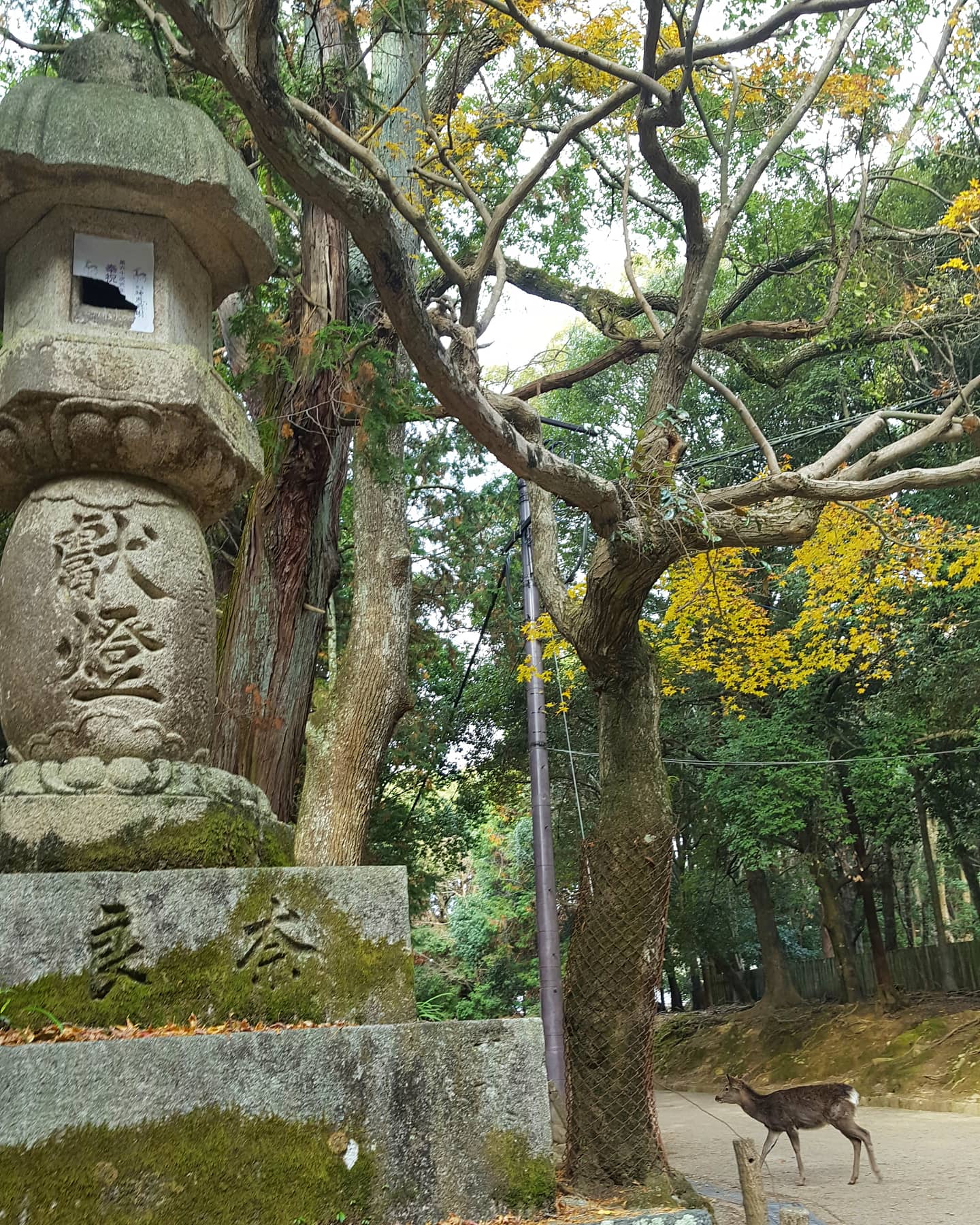 There are quite a few temples and treasure halls within Nara park, which I recommend you casually explore as you make your way to Kasuga-Taisha Shrine, the main attraction of Nara park. The park is kept very natural for the most part and really gets more and more pretty as you approach Kasuga-Taisha.
Pictured here is the stunning Kusuga-Taisha shrine. Kasuga-Taisha is responsible for the city's protection and is best known for its extensive lantern display. The shrine also protects a large section of primary forest surrounding it. That's old growth – a section of forest that has been around for thousands of years!
I hope you enjoyed this little tour of Kyoto & Nara and that we will all one day be able to resume actually visiting these wonderful places.