As the decade is coming to a close, this is the perfect time to reflect upon the many fantastic anime that have graced our screens in the last 10 years. Narrowing down this list to just 10 series was extremely difficult, which is testament to the number of great series that premiered this decade. My only rule was that the series (not movie!) must have premiered after 2010, so as much as I love the 3 seasons of Natsume Yuujinchou that did come out this decade, the series won't be included since it started in 2008. Also, this list is my subjective opinion.
Okay, I have to do honourable mentions, because I feel bad for leaving these out. Haikyuu!! is absolutely amazing and the reason I did not include it is that I find season 1 to be a little weak. PMMM has gorgeous animation and music but the last 2 episodes were quite rushed. Fruits Basket 2019 is the miracle of our generation but I can't kick out any of the series in my top 10. Alright, on to the actual list!
10. Barakamon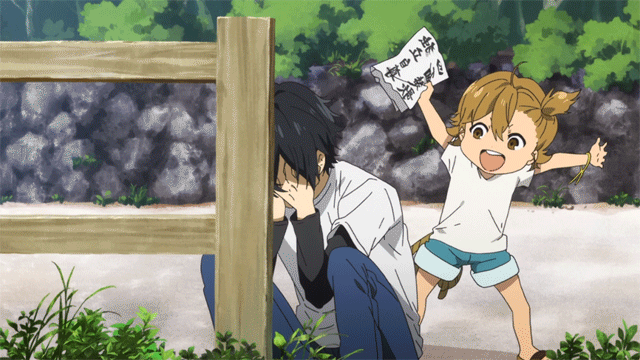 I told you this list would be subjective. Barakamon is just about a man named Handa who moves to the countryside. The locals make it their sole mission to never leave him alone, and it's hilarious. Among these locals is Naru, the village scamp who is the most charming anime child ever. These characters are so compelling and entertaining to watch, I've seen the show 3 times and it never gets old. Check out my full thoughts here!
9. Kimetsu no Yaiba
Call it recency bias if you want but I love this show. I'm a sucker for shows with a more traditional/feudal look and its animation is really beautiful. The main characters are all super endearing with Zenitsu taking the cake for simultaneously being the most annoying and adorable character to ever exist. Muzan is an actually terrifying villain and the story is engaging. It's just really good, what more can I say.
8. Steins;Gate
This show is called a masterpiece for a reason. It boasts easily the best executed time travel story and has a fantastic cast of characters. It's a complete story with a great ending. A great ending! That's an achievement in itself. Also, I AM MAD SCIENTIST! So, you must be wondering, why so low? Well, It's emotionally draining and must be enjoyed as a whole. To be clear, I know that's the point, but I don't have specific moments that I remember and re-watch. That's pretty much it, I think the story really is perfect, though.
7. Gekkan Shoujo Nozaki-kun
I LOVE EVERY SINGLE CHARACTER IN THIS SHOW. Seriously, I love them. This show is really a personal bias that stems from my love of cheesy shoujo. GSNK takes the classic shoujo tropes and drags them across the floor, but in the most loving way possible. The characters are all shoujo characters gone wrong and it's beautiful. The show has one of my favourite troll endings ever, too. If you enjoy shoujo, I implore you to watch this show.
6. Made in Abyss
This is what world building looks like. The universe of MiA feels lived in yet uncharted. It presents a vastness that feels real. Its mysteries are genuinely interesting and its horror is very much felt. The last two episodes of MiA are absolutely devastating and yes, I did ugly cry while watching. With gorgeous landscapes and music to boot, MiA feels destined for greatness. Absolutely can't wait for the movie!
5. Mob Psycho 100
Mob Psycho is a show that succeeds with both its characters and its story. I thought season 1 was amazing already, so it goes without saying that I was blown away by season 2. It has an rough art style that complements the amazing animation. All the arcs shown are thrilling, engaging and give you something to think about. Mob is the definition of a good boy and I love him and his dynamic with Reigen. A really strong series that unfortunately gets overlooked.
4. Hunter x Hunter
Ah the legend itself, HxH. It has an iconic cast of characters that are some of the most well-developed in anime. The last 5 episodes of the chimera ant arc are pure perfection and the Yorknew arc is one of my all-time favourite arcs. So why isn't it in my top 3? All HxH arcs start slow and the narration in the chimera ant arc almost made me stop watching (thank god I didn't), which was a big problem for me since I think the show is otherwise absolutely phenomenal. A classic for sure.
3. Shingeki no Kyojin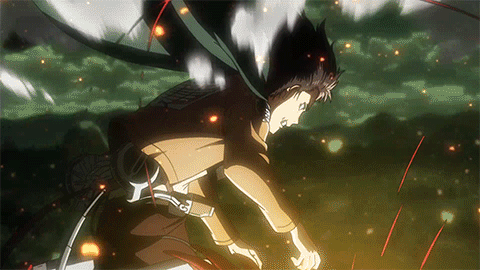 From an objective standpoint, SnK is probably the anime of the decade. It had mainstream crossover success and has become an iconic anime. Each season is better than the last and the hype I feel when watching SnK is almost unmatched. The episodes 'Warrior' and 'Hero' are some of my favourite episodes, ever. I greatly enjoy the characters, the animation and the music. Dear god the music of SnK is so good. A well rounded, extraordinary anime that will go down as a classic, must-watch show.
2. Sora Yori mo Tooi Basho
Ugh, I am so fond of this show and its characters. It has the best portrayal of female friendship in anime, which is already so incredibly rare. The struggles of each of the characters are relatable and they make you want to root for them. This is another show I shed tears for and it really emotionally impacted me. Smartly and tightly written, Sora Yori is a COMPLETE STORY and has satisfying end. I really adore this show. Check out my full thoughts here!
1. San Gatsu no Lion
I don't care what anyone says, this show is a masterpiece. It is a work of art that is only elevated by Shaft's amazing animation. Certainly the greatest character-driven story I've ever seen, San Gatsu handles its characters with so much love. There are so many phenomenal moments in this show that I constantly think about- the burning fields arc, Hina proclaiming that she was not wrong, Rei's breakdown, the ladybug bush scene, Rei returning home, I could really go on forever. PLEASE WATCH THIS SHOW.
Well, that was my top 10. Did I miss out on your favourite? Let me know!
None of these images are mine and are used for commentary purpose