A while ago, I wrote this article on anime set in the countrysides, and places of interest you can visit in those areas. This is part 2, with more gorgeous scenery and fun things you can do in these real life anime locations!
Non Non Biyori
This charming story begins when Hotaru Ichijo, a fifth grader from Tokyo, transfers into a small countryside school where only five students remain. Each of these children come from different grades of elementary and middle school, and help Hotaru adjust to her new life while going on little adventures.
Visit: Ogawa, Saitama
Ogawa is a little town located in Saitama prefecture that was traditionally famous for papermaking, a craft known as Washi. It is easily accessible from Tokyo via the Tobu-tojo line, with the nearest station being Ogawamachi station.
Here you can find the actual school which the school in the anime is based on. As the school is no longer in use, feel free to look around and take photos! the playground and swing set are still there.
You can even enter the building and take a look at the classroom, where only 5 desks remain. Make sure to leave your thoughts in the notebook provided! For access information click here.
While in Ogawa, you should also visit the Saitama traditional craft center. Hosokawa paper was recognized as Intangible Cultural Heritage by UNESCO in 2014, and here you can experience a papermaking workshop! For more information click here.
Alternatively, you can sign up for a washi making workshop at Kubo Japanese paper factory. Please note that they require reservations by telephone or through their website. For more information click here.
Poco's Udon World
Poco's Udon world is an adorable story of Poco, a shape shifting Tanuki who tries to reconnect a man named Souta to his recently deceased father. Throughout the show Souta's resentment towards his hometown and regret towards his father is explored, and Poco helps him learn to appreciate his home and realise his father's love for him.
Visit: Takamatsu, Kagawa
Kagawa, Japan's smallest prefecture, is easily accessible from major cities like Osaka, Kobe and Kyoto, either by train or aeroplane. While in Kagawa, trying Udon is a must, as it is known as 'Udon prefecture'.
One must visit location the duo explore is Ritsurin garden, a gorgeous feudal lord's garden given 3-star status by the 'Michelin Green Guide Japan'. Here you can drink tea at Kikugetsu-tei teahouse or explore the the Sanuki Mingeikan (Folk Craft Museum). Click here for access information.
Souta & Poco also took a day trip to Shodoshima, a beautiful island one hour by ferry from Takamatsu Port in Kagawa. You will recognise the Angel Road sand bar from the show. Be sure to visit Kankakei Gorge as well! Click here for access information.
The gang also spend a day at the Yashima Plateau. The most popular attraction is the temple, Yashima-ji, which has a beautiful temple garden and viewpoint. While there you can explore the rediscovered and restored ruins of the ancient Yashima Castle as well. Click here for access information.
At the base of Yashima is Shikoku Mura, an open air museum with a pleasant hillside park. It preserves and exhibits traditional buildings and structures from the Edo and Meiji periods. It retains a beautiful, natural atmosphere. Click here for access information.
All the places featured in Poco's Udon world can be found here (Japanese).
Haikyuu!!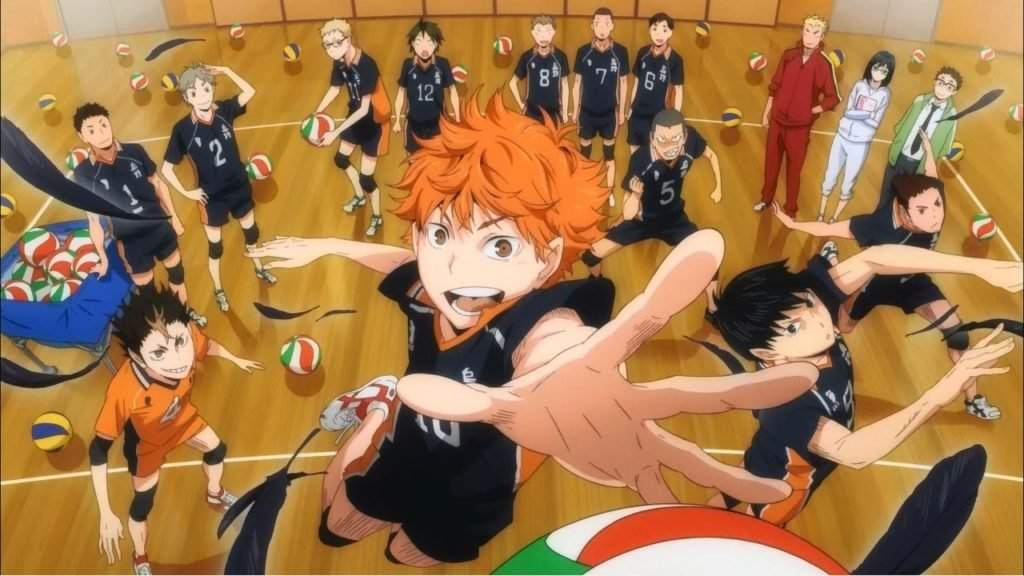 Haikyuu follows Hinata, a talented volleyballer who has to work extra hard to compensate for his short stature. As he enters high school, he is thrust into unfamiliar territory and has to adapt to his new team. Because his small middle school didn't have enough people or resources to form an official volleyball team, Hinata gets the chance to bond with a real team and compete against other teams in his prefecture for the first time.
Visit: Karumai, Iwate
Of all the places I've listed, this town is probably the furthest away from any major city in Japan. It is a little hard to get to, but nothing is impossible. All you have to do is get to Ninohe Station by Shinkansen (bullet train). From there, you have two options- bus (about 1 hour) or taxi to Karumai.
Before you head off to Karumai, you can stop by Mt. Oritsumedake, which is accessible from Ninohe station by bus or bicycle. In fact, during summer there are even free shuttle buses there, to view their very famous fireflies! There is also a lovely view from the top. You can find access information here.
Once you get to Karumai, as a Haikyuu fan, you most definitely should first check out the Municipal gymnasium! This is where Kageyama and Hinata first met. Location. You can also find other places that the team commonly frequent here, but please refrain from trespassing.
Karumai may be a proper in-the-middle-of-no-where type town, but there's still stuff you can do here! Yukiyagawa Dam Forest Park is a great option, famous for its tulips that bloom in late spring! In the summer, you can enjoy the pretty hydrangeas. Access information here.
By the way, Haikyuu fans, here's a little extra for you. If you can't travel all the way to Karumai, here's a place in Sendai city you can consider visiting (It's not in the countrysides, but hey, I understand some of us may have time constraints!): Kamei Arena Sendai. You will definitely get a kick out of seeing that famous face.
I hope this inspired you to check out some lesser known areas of Japan. For part one with more anime IRL places, click here.
Images are used for commentary purpose.