During my stay with Ritsumeikan University, I had the opportunity to visit the Kyoto Museum for world peace, which is affiliated with the university. The small museum reflects on Japan's activities during World War II (Referred to as the 15 year war) and evidently takes a strong anti-war and anti-violence stance.
As someone from a country that was colonised and brutalised by Japanese forces during WWII, it was interesting to see how the museum handled the delicate topic of WWII Japan, something that ruffles feathers on both sides to this day. The museum shows how the war negatively affected the lives of people from both sides, and ultimately condemns acts of violence from both.
Much to my surprise, the museum even comments on wartime atrocities committed by Japan, comparing junior high school history textbooks from a number of different countries, including China, Taiwan, Korea, England, Germany and the United States to gain perspective. It has displays on comfort women and anti-Japanese activities in colonised countries, which arose due to harsh treatment of the locals, and perspectives of victims who are still seeking compensation for war crimes.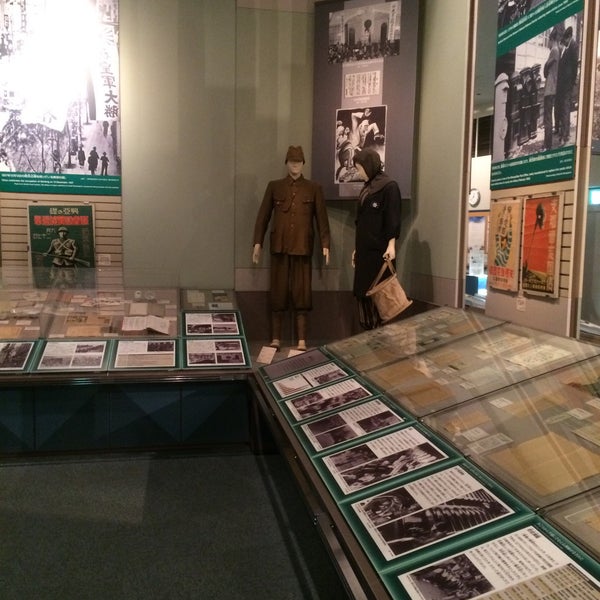 The museum also reflects on how negatively Japanese civilians were affected by the war. Rations and wartime clothing are showcased. The battle of Okinawa and the Atomic bombings are also featured and denounced as many civilians were killed in both. An Aerial view of Kyoto taken from a B29 bomber, as well as a circle radius indicating the area that would be destroyed if the Atomic bomb was dropped on Kyoto as planned.
Another highlight is the exhibit on Kyoto's involvement in the war, and how Ritsumeikan's history is tied to the war. Approximately 55,000 men from Kyoto lost their lives during the war, and many artifacts used by soldiers are on display. Ritsumeikan University adopted a nationalistic curriculum in the 1920s. The university even established a special armed unit of students who served as Imperial Guards during the war, and much of this is displayed in the museum.
The museum has 3 peace galleries that emphasize the museum's purpose; to showcase the importance of peace and learning from past mistakes for a better world. It showcases events such as Hague Appeal for Peace-Civil Society Conference and peace messages from Kyoto. As they put it, "we try to direct our steps towards true peace by considering not only the problems of war and nuclear weapons, but also all barriers to the full realization of human potential-that is, all forms of structural violence."
The Kyoto Museum for World Peace is an interesting juxtaposition to the murky back-and-forth that usually takes place around wartime discussions. By taking an anti-war stance, it opens itself up to touchy subjects and reminds us of a fundamental truth- violence is bad.
Information
Entrance fee: 400 yen
Opening Hours: 0930 to 1600
Visit their official English website.