Tokyo is known for being two things- a concrete jungle and one of the world's most expensive cities. The beautiful parks found sprinkled within Tokyo are the greatest contradictions to these widely accepted notions, offering both lively and quiet green spaces which are completely free! Here's where you can go to relax after a couple of busy days of travelling.
Yoyogi park
Just beside Harajuku station lies the weird and wonderful Yoyogi park. It's one of Tokyo's largest parks and was once the site of the Olympic Village in 1964. While not a particularly spectacular nature park, it does have a pretty Ginkgo tree forest that turns bright yellow in autumn and a pond with ducks.
However, Yoyogi park truly comes to life on the weekends, when performers of all kinds come to practice and entertain. This includes artists, musicians and women in maid costumes dancing. It's proximity to Harajuku has also led to it being a popular spot to show off both mainstream and alternative fashion. Location.
Ueno park
As its name suggests, Ueno park is located just outside Ueno Station in central Tokyo. The park was originally part of Kaneiji Temple and was later converted into one of Japan's first Western style parks. It's become famous for the many museums found on its grounds and Ueno Zoo (Japan's first zoo), making it popular among families.
However, for those looking to spend a nice and quiet afternoon, the Kaneiji Temple and Kiyomizu Kannon Temple are also located in Ueno Park, and both have no admission fee! The park is also one of Tokyo's most popular cherry blossom spots with more than 1000 cherry trees colouring the park a vibrant pink in spring. This is also a favourite place to view fall foliage. Location.
Imperial palace east gardens & outer gardens
The imperial palace east garden is now located at the former site of Castle's innermost circle of defense. A pretty Japanese style garden now exists within the park, together with several ponds surrounding vast lawns and well-manicured bushes and trees, and there is no admission fee to access these areas.
Even more beautiful is the Kitanomaru Park, which is technically part of the outer gardens. Famous for the cherry blossom lined path that surrounds the moat, covering the water in petals when they bloom. This is where couples love to picnic, and families come to play. For those who don't mind spending a bit, the park is home to the Museum of Modern Art Tokyo. Location.
Sumida park
After spending a couple of hours at Asakusa, you'll probably want to find a place to relax for a while. This is where Sumida park comes in, offering a retreat from the chaos nearby. Located outside Asakusa station, the park surrounds a river, and is a wonderful natural area, featuring views of the Tokyo Sky Tree.
With more than 1,000 cherry trees lining both banks, this is also a popular spot in spring. For those visiting in July, this park is well known for its fireworks festival and display as well. Location.
Inokashira park
Inokashira Park, established in 1917, celebrates its 100th anniversary this year, in 2017! Originally considered a neighborhood park, Inokashira Park now serves as a popular hang out area for families and couples, partly due the ever so famous Ghibli museum which resides within it.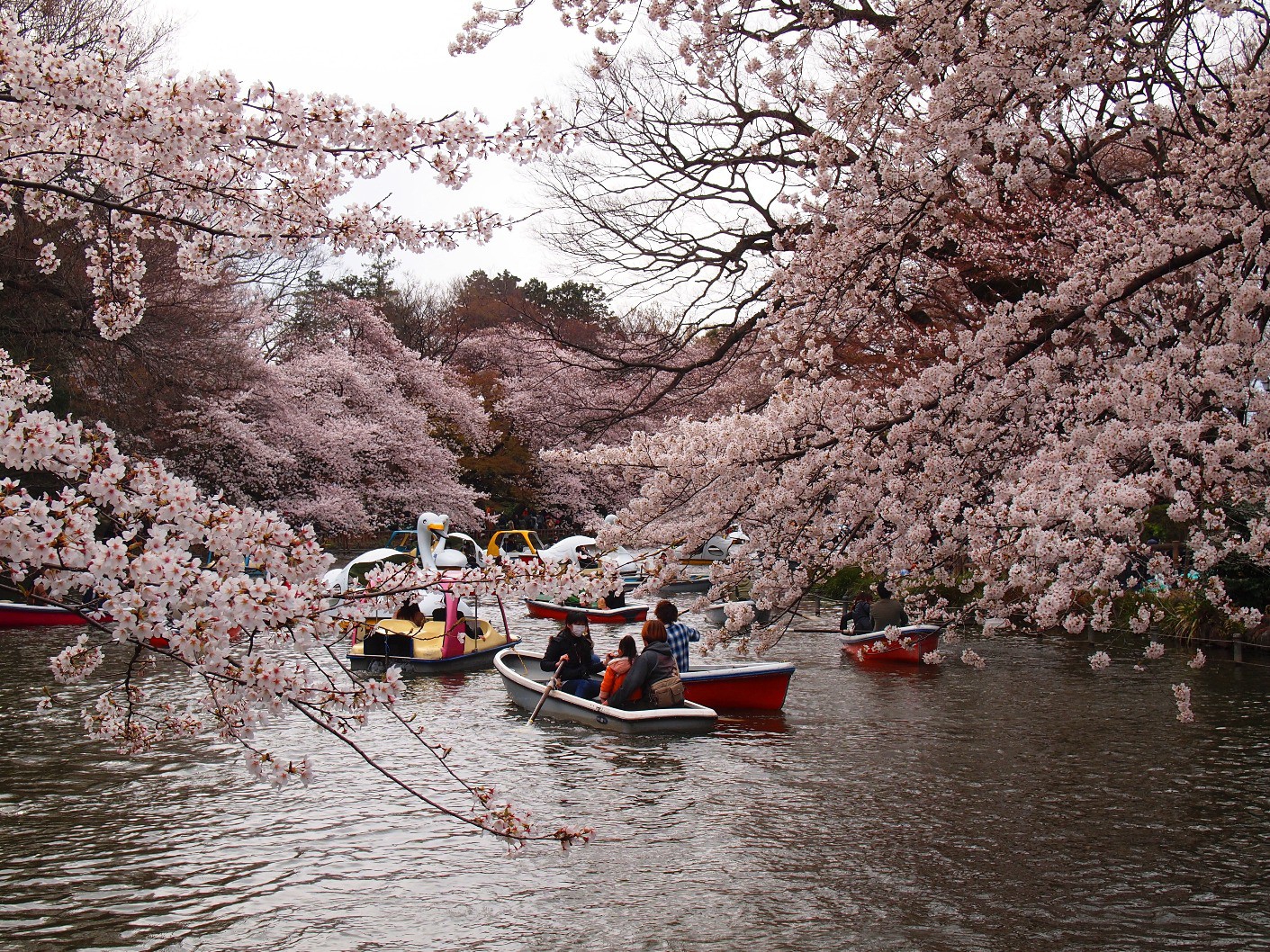 The park is divided into 3 sections- Inokashira Pond and its surroundings, the Inokashira zoo and the Shizen Bunka-en where there are recreation facilities and the Ghibli museum. There are quiet forested areas where you can roam the grounds for free, surrounded by the cherry and maple trees, making it especially popular in autumn and spring. Location
All images are used for commentary purposes